Places of interests - Kampot Cambodia
---
Brateak Krola Lake
The so-called "Secret Lake"
Discover the Beauty and Serenity of Brateak Krola Lake!
Located just a short drive from Kampot, Brateay Kola lake is a stunning natural wonderland that offers visitors a peaceful escape from the hustle and bustle of everyday life. Surrounded by lush greenery and breathtaking views, this serene body of water is perfect for relaxing boat rides, picnics, or simply taking in the beauty of nature. Whether you're looking to unwind or explore something new, Brateay Kola lake is a must-visit destination near Kampot.
Tada Roung Chan Waterfall
This natural waterfall is 27 meters high
The Tada Roung Chan Waterfall, also known as the Elephant Waterfall, is a stunning natural wonder located in Kampot province, Cambodia. The waterfall is situated within the Bokor National Park and is accessible via a scenic 12-kilometer drive from Kampot city.
The Tada Roung Chan Waterfall cascades over several rocky ledges into a picturesque pool below. Visitors can swim in the cool, clear waters of the pool or explore further upstream where the water becomes shallow and perfect for wading. The surrounding jungle is home to a variety of wildlife, including monkeys, birds and other exotic creatures.
In addition to its natural beauty, the Tada Roung Chan Waterfall offers visitors a range of activities to enjoy. Hiking trails lead through the park's lush forests, while picnic areas provide the perfect spot to relax and take in the scenery. Visitors can also explore nearby attractions such as the Kampot Pepper Plantation or the Kep Beach.
Overall, the Tada Roung Chan Waterfall is a must-see destination for anyone visiting Kampot province. Its stunning natural beauty, range of activities and proximity to other popular attractions make it an unforgettable experience that should not be missed.
Phnom Daung Beach
Artificially created, secluded beach and planted palm trees.
! Closed for public !
Veal Pouch Waterfall
The waterfall is located about 12km from the city
Picture shows waterfall in dry season.
Love the River
Take a unique and private boat trip on a narrow side arm of the Kampot River and enjoy the beautiful view on the mountains and the stunning area along the river, while discovering untouched areas on an 8 meter wooden long-tail boat (max 6 people).
Get a bespoken boat trip with lots of information about local life, birds along the river, mangrove trees and fruit trees, stop at a sandy river beach for a refreshing swim and walk over a fruit plantation.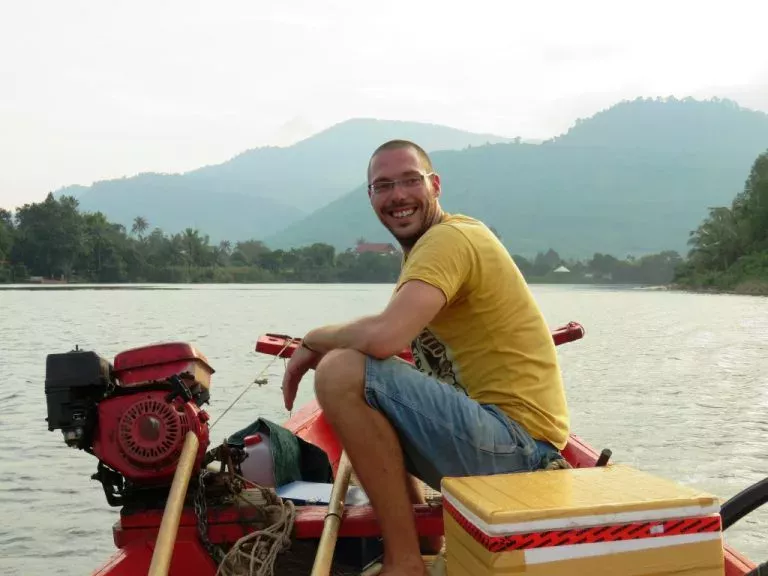 Approximately 3 hours duration.
Swimming suits, sunscreen and camera are recommended, Parasols are provided. Drinks available on board.
Early Morning Tour starts between 07:00am and 09:00am.
Afternoon Sunset Cruise starts at 03:00pm.
Want to have the boat just for yourself? Start at different time? Extend the boat trip? Feel free to ask the Captain for specials!
016 627 410 send mail to Björn lovetheriver.yolasite.com
The LoveTheRiver private boat trips start at Green House.
Please ask your Tuk Tuk driver to take you there!
Local food
Cambodia is known for its delicious and unique cuisine, which blends flavors from neighboring countries with a distinctive taste all its own. One of the most popular Cambodian dishes is amok, a fragrant curry made with coconut milk, lemongrass, galangal and kaffir lime leaves. This dish can be found at many restaurants throughout the country, but it's especially popular as a street food in Phnom Penh, where vendors serve up steaming bowls of amok alongside other classic Cambodian dishes like fish soup and fried noodles.
Another favorite among locals is kuy teav, a noodle soup that's often described as the "national dish" of Cambodia. This hearty meal features wide rice noodles in a clear broth, topped with fresh herbs and a squeeze of lime juice. Kuy teav can be found at many street food stalls throughout the country, where vendors serve up steaming bowls of this beloved dish alongside other classic Cambodian fare like fried noodles and fish soup.
Of course, Cambodia is also famous for its delicious street food, which can be found in every corner of the country. From the bustling markets of Phnom Penh to the small villages outside Siem Reap, vendors serve up a wide variety of tasty treats that are sure to satisfy any appetite. Some popular Cambodian street foods include fried noodles, fish soup and chicken wings, which can be found at many stalls throughout the country.
Overall, Cambodia's cuisine is a delightful blend of flavors that reflects the country's rich history and diverse cultural influences. Whether you're dining on classic Khmer fare like amok or kuy teav or sampling some of the delicious street food found throughout the country, one thing is certain: Cambodia's culinary scene is sure to delight even the most discerning palate.
Popular foods for locals in Cambodia include fried duck eggs, which are a popular street snack that is typically served with a sweet soy sauce glaze; chicken wings, which can be prepared in a variety of ways including grilled or deep-fried and seasoned with spices such as garlic, ginger and lemongrass; chicken feet, which are often boiled and eaten as a snack or used in soups and stews; and water ice cream, which is made from shaved ice and flavored syrups. These dishes are popular among locals and can be found at many street vendors and restaurants throughout the country.