Firefly Cruise - Kampot Cambodia
---
Firefly Cruise in Kampot is a magical experience that should not be missed by anyone visiting the city. This evening adventure takes you on a journey down the tranquil Kampong Bay River, where you can witness the breathtaking sight of thousands of fireflies lighting up the riverbank.
The cruise departs from the Kampot pier, which is conveniently located near the city center. The boat is a traditional wooden vessel that has been refurbished to provide a comfortable and relaxing experience. The boat can accommodate up to 20 people, making it an intimate and personal journey.
As you embark on the cruise, the first thing you notice is the tranquility of the river. The boat is equipped with soft lighting that creates a warm and inviting atmosphere. As you make your way down the river, you can enjoy the serene scenery and wildlife that surrounds you. The riverbanks are lined with mangroves and lush vegetation that provides a habitat for various bird species and other wildlife.
As the sun begins to set, the boat slows down and you can see the first fireflies twinkling in the trees. The magical sight of these tiny creatures illuminating the riverbank is truly mesmerizing. The boat continues down the river and you can witness more and more fireflies lighting up the trees. The sight is truly breathtaking and gives you a sense of wonder and awe.
The cruise lasts for around two hours, giving you ample time to enjoy the fireflies and the peaceful surroundings. The boat crew is friendly and knowledgeable, providing you with interesting facts about the fireflies and the local environment.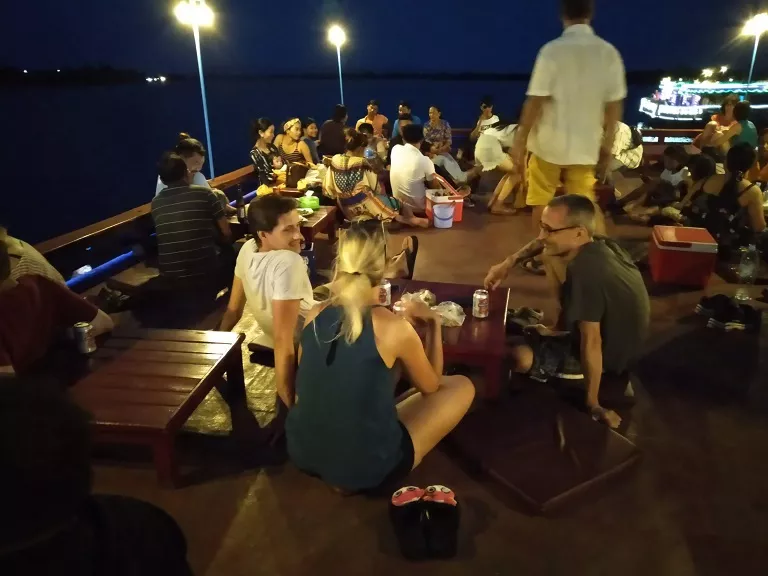 The Firefly Cruise in Kampot is a perfect way to unwind after a day of exploring the city. It is also an ideal activity for couples looking for a romantic evening or families wanting to create lasting memories. The cruise is suitable for people of all ages and abilities and it is a must-do experience when visiting Kampot. You can enjoy traditional Khmer cuisine or try some of the international restaurants that are popping up around the city.
In conclusion, Firefly Cruise in Kampot is an unforgettable experience that should not be missed. It offers a magical and peaceful way to unwind and enjoy the natural beauty of the region. Kampot has many other attractions and experiences that make it a popular destination for travelers, from high-quality healthcare services to diverse accommodations and a thriving food scene. The salt fields provide a unique insight into the local economy and culture, making Kampot a must-visit destination when traveling in Cambodia.