Ponleu Komar Pediatric Clinic - Kampot Cambodia
---
069 221 351 012 221 351 ponleukomarpediatricclinic@gmail.com facebook map
Ponleu Komar Pediatric Clinic is a medical facility that provides specialized care and treatment to children from infancy through adolescence. The clinic offers a wide range of services, including routine check-ups, vaccinations, treatment of illnesses and injuries and management of chronic conditions. The staff at Ponleu Komar Pediatric Clinic is dedicated to providing personalized and comprehensive care and strives to create a comfortable and welcoming environment for patients and their families. They are committed to promoting the health and well-being of children in the community and are equipped with the latest technology and medical advancements to provide the best care possible.
The clinic was founded by Dr. Ponleu Komar in 2015 with the aim of providing high-quality healthcare services to children in the area.
The clinic offers a range of medical services, including pediatric consultations, vaccinations and treatment for common childhood illnesses such as diarrhea and fever.
The staff at the clinic is made up of experienced doctors, nurses and other healthcare professionals who are committed to providing compassionate care to all patients.
In addition to its medical services, the clinic also offers education and outreach programs aimed at promoting child health and well-being in the local community.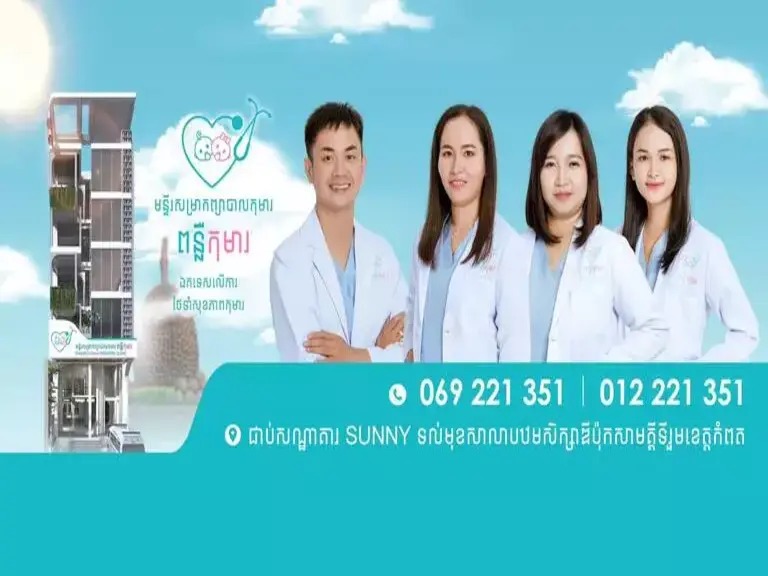 Pediatrics is a branch of medicine that deals with the health and medical care of children from birth to the age of 18 or 21. The word "pediatrics" means "healer of children" in Greek. Pediatricians are medical doctors who specialize in providing care for children from birth through childhood. They cover a wide array of health services, from preventative care to diagnosing and treating various diseases and illnesses.