Kampot City Cambodia
Old town, River and much more
---
The Durian Roundabout
Landmark for tourists and locals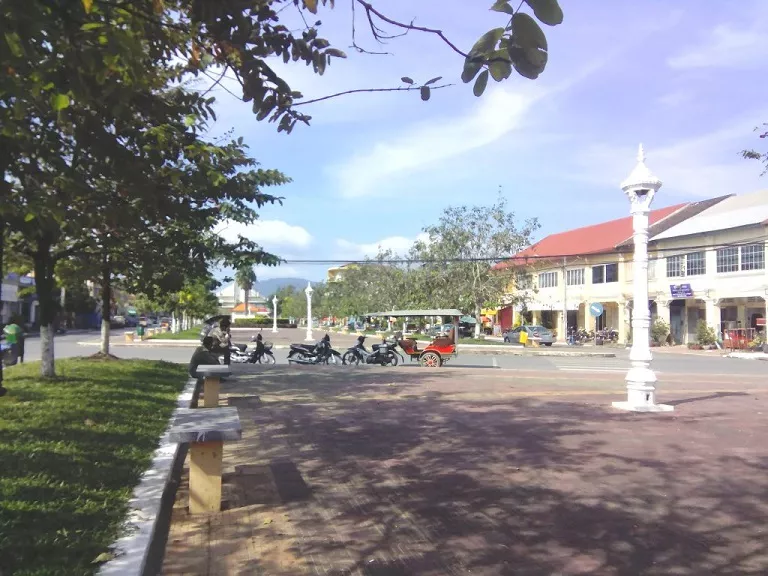 Food Street opened on public place in Old Town
Situated between new Bus Station and Old Market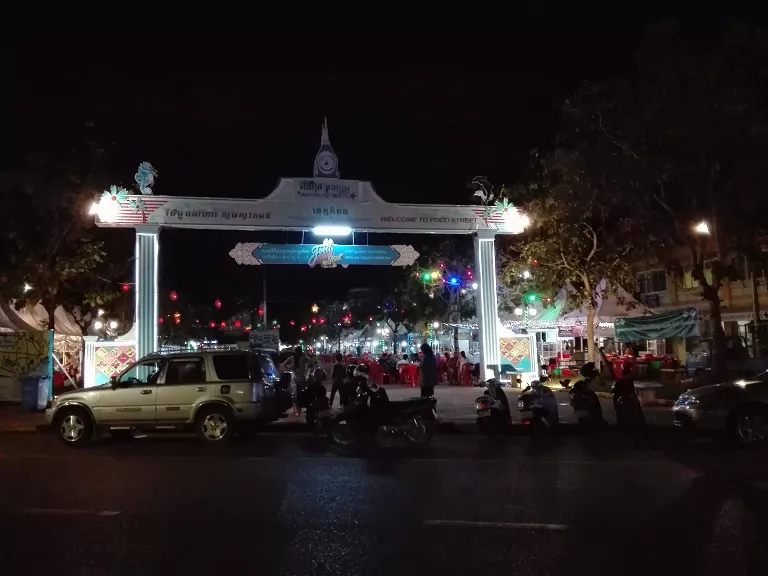 Local food to local prices
Weather Camera Kampot
Kampot webcam with daily pictures
download Kampot Travel Guide from Google Play Store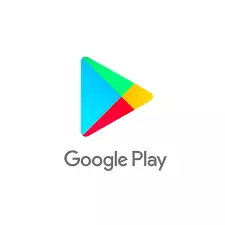 General informations
Interesting places are shown on map
Audio in Khmer / English language (no internet needed)
Accommodations info
App in English, Khmer, German, French and Chinese
The Town
---
Kampot is a quiet, peaceful place that is quickly gaining a reputation as Cambodia's number one tourist chill out.
Most Western tourists and visitors probably have no idea that Kampot is also practically synonymous with durian. That might explain the prominent setting of the Kampot durian statue, the roundabout in the center of town.
Kampot is a city in southern Cambodia and the capital of Kampot Province.
It is situated at the Praek Tuek Chhu river southeast of the Elephant Mountains / Preah Monivong Bokor National Park and around 5 km (3 mi) from the Gulf of Thailand.
Kampot was the capital of the Circonscription Residentielle de Kampot under French rule and Cambodia's (Kingdom of Wonder) most important sea port after the loss of the Mekong Delta and before the establishment of Sihanoukville.
Its center is unlike most Cambodian provincial capitals composed of 19th-century French colonial architecture. The region and town are well known for the high quality pepper, which is being exported worldwide. It is also known for its Kampot fish sauce and durian.
Police : mobile Stations are near all public areas and open 24/7
Post Office : Mo - Fr : 08:00 am - 12:00 am and 02:00 pm - 05:00 pm
Museum : $2 Mo - Fr : 08:00 am - 11:30 am and 02:00 pm - 05:30 pm
Kampot: The Sleepy Town in Cambodia That Is Slowly But Surely Becoming A Hotspot
Kampot is a small, sleepy town in Cambodia that is slowly but surely becoming a hotspot. It's located on the shores of the Gulf of Thailand and has a population of around 40,000 people. Kampot offers many things to do, such as waterfalls, rivers, caves and temples.
Kampot's location on the gulf means that it receives most of its visitors from tourists that fly into the country via the nearby airport. There are also plenty of ways to get around Kampot due to its size. Visitors can take tuk-tuks, taxis or explore on foot. In total, there are four different districts within Kampot: Chamkar Mon district where you will find all the major attractions; Kandal Village which is on the opposite side of town and perfect for those looking for more rural living; Daun Penh district which is just outside of town and where you can pick up some souvenirs.
Why is Kampot a great place for travelers?
Kampot is a great place for travelers because it's easy to move around. Visitors can explore the town on foot or take tuk-tuks, taxis, etc. The four districts in Kampot make it easy for visitors to know exactly where they need to go and what they need to do while they're there.
What is it like to live in Kampot?
Kampot is a small town and it can be fairly easy to get around, but it does feel very local. There are no international brands here nor is there anything like McDonalds or Starbucks. Locals will tell you that there is a difference between Kampot and the surrounding towns. One of the best things about living in Kampot is feeling like you are part of its history.
Where should tourists go in Kampot and what should they do when they're there?
Kampot is a popular tourist destination and offers a great deal to do. The town is famous for its historic sites like the Kampot Chams, which feature beautiful views of the Gulf, as well as waterfalls and rivers. For a more rural setting, visitors can explore Kandal Village or Daun Penh district.
In town there are plenty of things to do, but if you're looking for a break from all the hustle and bustle, head to Wat Nokor district which is just outside of town. There you will find some lovely temples that offer peaceful escapes from the chaos of the busy city streets. One temple in particular is Wat Nokor (wat noh kawr), also known as Bottle Temple because it was constructed from recycled glass bottles imported from France in 1973.
The Wat Nokor temple has a large Buddha statue made out of broken glass bottles that reflects beautifully with sunlight streaming through the windows. It's worth checking out!
Conclusion
Kampot is the perfect spot for travelers looking for a more relaxed experience. The sleepy town has a lot to offer for those who want to enjoy a slower pace of life but still want to experience authentic Cambodian culture.
Boardwalk
---
The boardwalk starts at the new bridge and goes about 2 km south, along the old bridge and all the guest houses and restaurants, to the fitness equipment.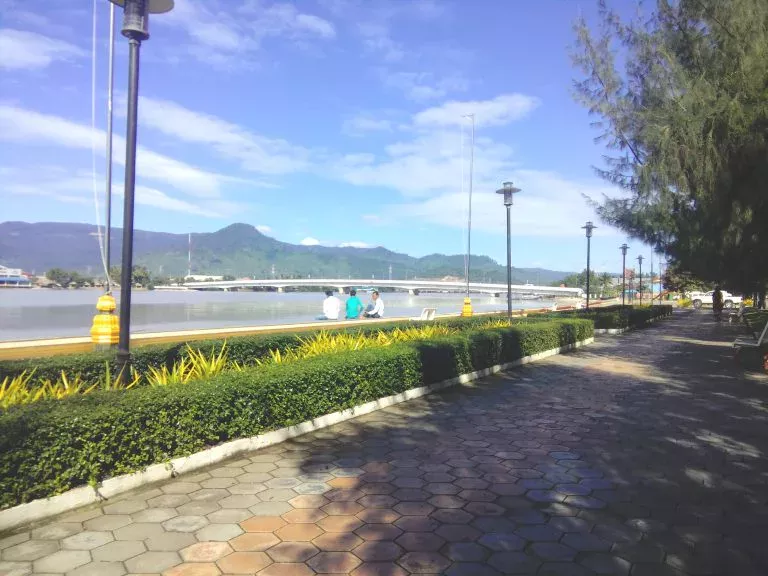 New Bridge
open for traffic
The connection of the two river sides through the bridge makes this road very busy.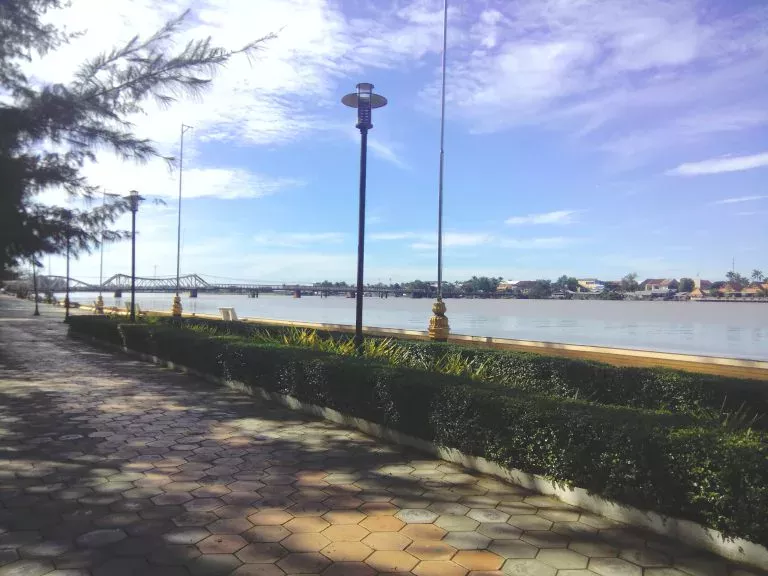 Old Bridge
closed for cars
The preferred way to cross if you have a motorcycle, also as a pedestrian.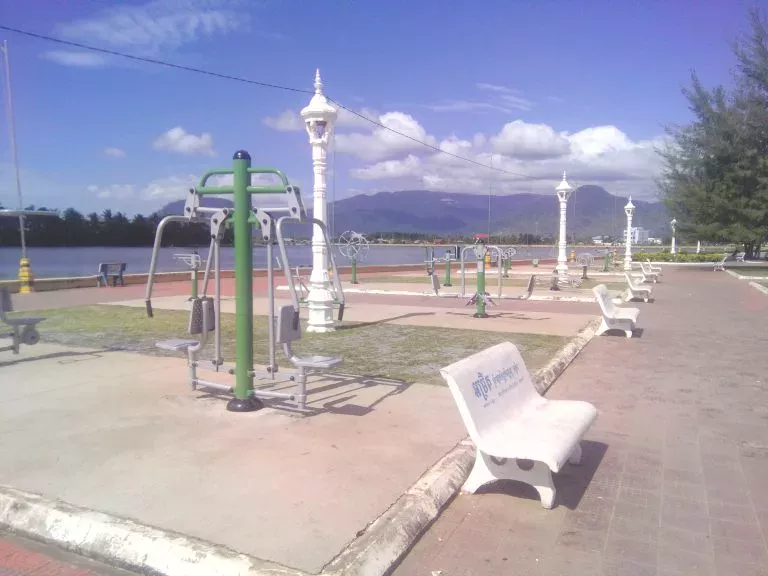 Fitness Equipment
free to use
In the late afternoon the stalls open and liven up the area.
Lotus Pond
---
A meeting point to relax.
The best time to see the pond is early morning. The flowers bloom every morning and then close when the day starts.
Lotus is also widely used in the cuisine of the region. The big leaves are used to wrap food for steaming, while the stems, seed pods and seeds are all eaten.
View to library
Clean and quiet place
Island
The islands are decorated with sculptures
Sculpture
Traditional style illustrations
Pepper
---
Kampot pepper is a cultivar of pepper (piper nigrum) grown and produced in Kampot Province, Cambodia.
It is a certified appellation of origin product since 2010.
The climate of Kampot Province offers perfect conditions for growing pepper. The growing conditions are only one of several elements of importance to the production of Kampot pepper. Knowledge of pepper cultivation and production has been handed down from generation to generation in Kampot Province since at least the 13th century.
Price/kg : 40000 Riel | $10
Moriah Learning Center
---
"God calls us to His service from what we have"
Vision: To share and to help the local children-teens and people with the ability and gifts/talents we have for some better knowledge and skills in the changing world. As we journey together, we want to see some transformational lives through the solid biblical education among the local people.
Goals:
a). To help the local children-teens-youths and people have better knowledge and skills in facing the different conditions in life.
b). To make sure that each person is unique with an ability to learn.
c). To make sure that learning is fun process, and everyone has his / her freedom to experience the kind of educational process at Moriah Learning Center.
d). To prepare young people for the lives of faithfulness in Christ and in services at the center.
e). To see the transformational development of individuals in the local community and beyond.
Activities: Moriah Learning Center provides some good education for free of charge to all students and local people. But, they must be responsible for the payments of their textbooks, notebooks, as well as other materials.
Mr Petrus E. Handoyo
MLC Kampot
Moriah Learning Center
Free English class
Monday to Friday
Salt Fields
---
The ocean water is let into the fields and left to evaporate naturally into salt crystals under the hot sun. The salt is then collected and delivered to the salt factory for processing.
Brateak Krola Lake
---
The so-called "Secret Lake"
Daung Te Resort
---
Daung TE is a place where you can escape from your stress. Relax on the beach, play in the water, enjoy good scenery and taste good local food.
Tada Roung Chan Waterfall
---
This natural waterfall is 27 meters high
Phnom Daung Beach
---
Artificially created, secluded beach and planted palm trees. Naturally overgrown and worth a visit
Veal Pouch Waterfall
---
The waterfall is located about 12km from the city
Picture shows waterfall in dry season.
Love the River
---
Take a unique and private boat trip on a narrow side arm of the Kampot River and enjoy the beautiful view on the mountains and the stunning area along the river, while discovering untouched areas on an 8 meter wooden long-tail boat (max 6 people).
Get a bespoken boat trip with lots of information about local life, birds along the river, mangrove trees and fruit trees, stop at a sandy river beach for a refreshing swim and walk over a fruit plantation.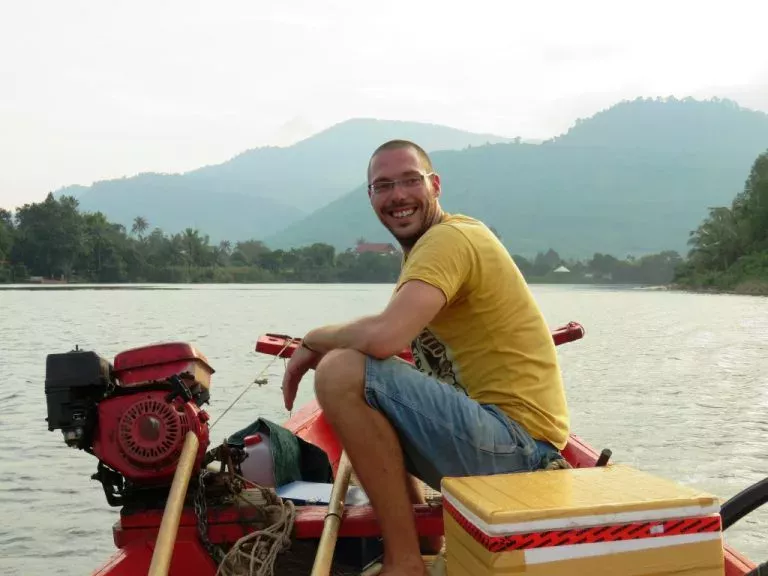 Approximately 3 hours duration.
Swimming suits, sunscreen and camera are recommended, Parasols are provided. Drinks available on board.
Early Morning Tour starts between 07:00am and 09:00am.
Afternoon Sunset Cruise starts at 03:00pm.
Want to have the boat just for yourself? Start at different time? Extend the boat trip? Feel free to ask the Captain for specials!
The LoveTheRiver private boat trips start at Green House
Please ask your Tuk Tuk driver to take you there!
Firefly cruise
---
Sunset and Firefly boat cruises. The tourist boats moved to the west side of the Praek Tuek Chhu river
Bokor Night Market
---
The Bokor Night Market is situated at the Praek Tuek Chhu river. The beach and the terrasse make it a nice place to enjoy the delicious local food or to relax with a drink.
Wide range of food, drinks, clothing and entertainment for all ages.
Opening hours : 04:00pm - 10:00pm
Free entrance at the Bokor Night Market
Parking fee : 1000 Riel
Local food
---
Popular food for the locals are fried duck eggs, chicken wings, chicken feet and water ice cream.
Drill a well
---
Experienced team for drilling in different sizes and depths.
YouTube Channel
---
Kampot Videos and Live Streams
Information and Live streams from Kampot City Cambodia.
Subscribers will be informed before the live broadcast.