Advanced Bank of Asia (ABA) - Kampot Cambodia
---
Advanced Bank of Asia (ABA) is a commercial bank in Cambodia. It was founded in 1996 and is headquartered in Phnom Penh. ABA Bank provides a wide range of banking products and services to individuals, businesses and institutions in Cambodia.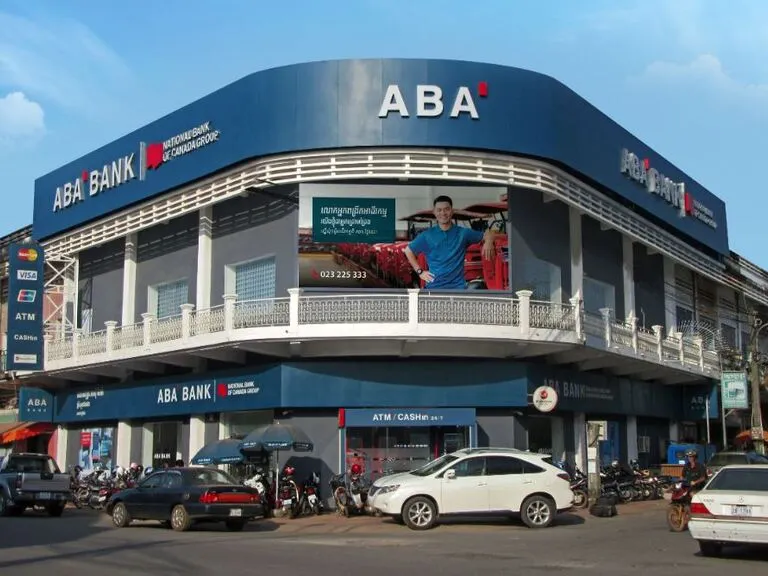 Here are some of the services offered by ABA Bank:
Savings and Current Accounts: ABA Bank offers a range of savings and current accounts for individuals and businesses. These accounts come with various features and benefits, including competitive interest rates, free e-banking services and no minimum balance requirements.
Loans: ABA Bank provides various types of loans to individuals and businesses, including personal loans, business loans and housing loans. The bank offers competitive interest rates and flexible repayment terms.
Credit Cards: ABA Bank offers credit cards to customers, with various features and benefits, including cashback rewards, discounts and free travel insurance.
Mobile Banking: ABA Bank provides mobile banking services to customers, allowing them to perform financial transactions and manage their accounts using their mobile phones.
Online Banking: ABA Bank offers online banking services to customers, allowing them to access their accounts and perform financial transactions using the internet.
Foreign Exchange: ABA Bank provides foreign exchange services to customers, allowing them to buy and sell foreign currencies.
Money Transfers: ABA Bank offers various money transfer services, including local and international transfers, Western Union transfers and mobile money transfers.
ATM Services: ABA Bank has a large network of ATMs across Cambodia, allowing customers to withdraw cash, check their account balance and perform other banking transactions.
It is best to contact the bank directly or visit their website for more information on their services and fees.